Regular price
$171.00 USD
Regular price
$225.00 USD
Sale price
$171.00 USD
Unit price
per
Sale
Sold out
Looking to upgrade your soldering game? Or are you starting new? Our Professional curated Soldering Kit has got you covered! With a total value of over $300, this kit includes all the necessary tools and materials to take your soldering projects to the next level. Whether you're a beginner or a pro, this kit is perfect for anyone looking to enhance their skills and tackle new projects. From the high-quality soldering iron to the silicon mat, each item in this kit has been carefully selected to ensure you have everything you need to start soldering now. So why wait? Get your hands on our Professional Soldering Kit today and start soldering like a pro!
List of Components
Pinecil Soldering Iron V2
Silicone USB-C Power Delivery Cable
65W Power Supply
Lead-Free Solder

Rosin Flux Pen
Solder Wick
Lead-Free Tip Tinner
Horse Hair Cleaning Brush
Side Cutters
Wire Stripers
Needle Nose Pliers
Desolder Pump
Copper Sponge Tip-Cleaner
Alcohol Dispenser
Silicone Work Mat
Kimwipes
Specifications
Soldering iron: Pine64 Pinecil Smart Mini Portable Soldering Iron
Power cable:

Pine64 

USB-C to USB-C Power Delivery Cable
Power supply: Pine64 Power Supply 65W
Solder wire: MG Chemicals 4900 - SAC305 No-Clean Solder Wire (Lead-Free)
Flux pen: MG Chemicals 835-P Rosin Flux Pen
Solder wick: MG Chemicals 426-NS No-Clean Super Wick
Tip tinner: MG Chemicals 4910 Tip Tinner (Lead-Free)
Cleaning brush: MG Chemicals Horse Hair Cleaning Brush
Side cutters
Wire strippers 10-22AWG
Needle-nose pliers
Desolder pump
Copper Sponge Tip-Cleaner
Liquid alcohol press pump
Silicone workspace mat
Kimtech Low-Lint Precision Wipers
Not Included

Share
View full details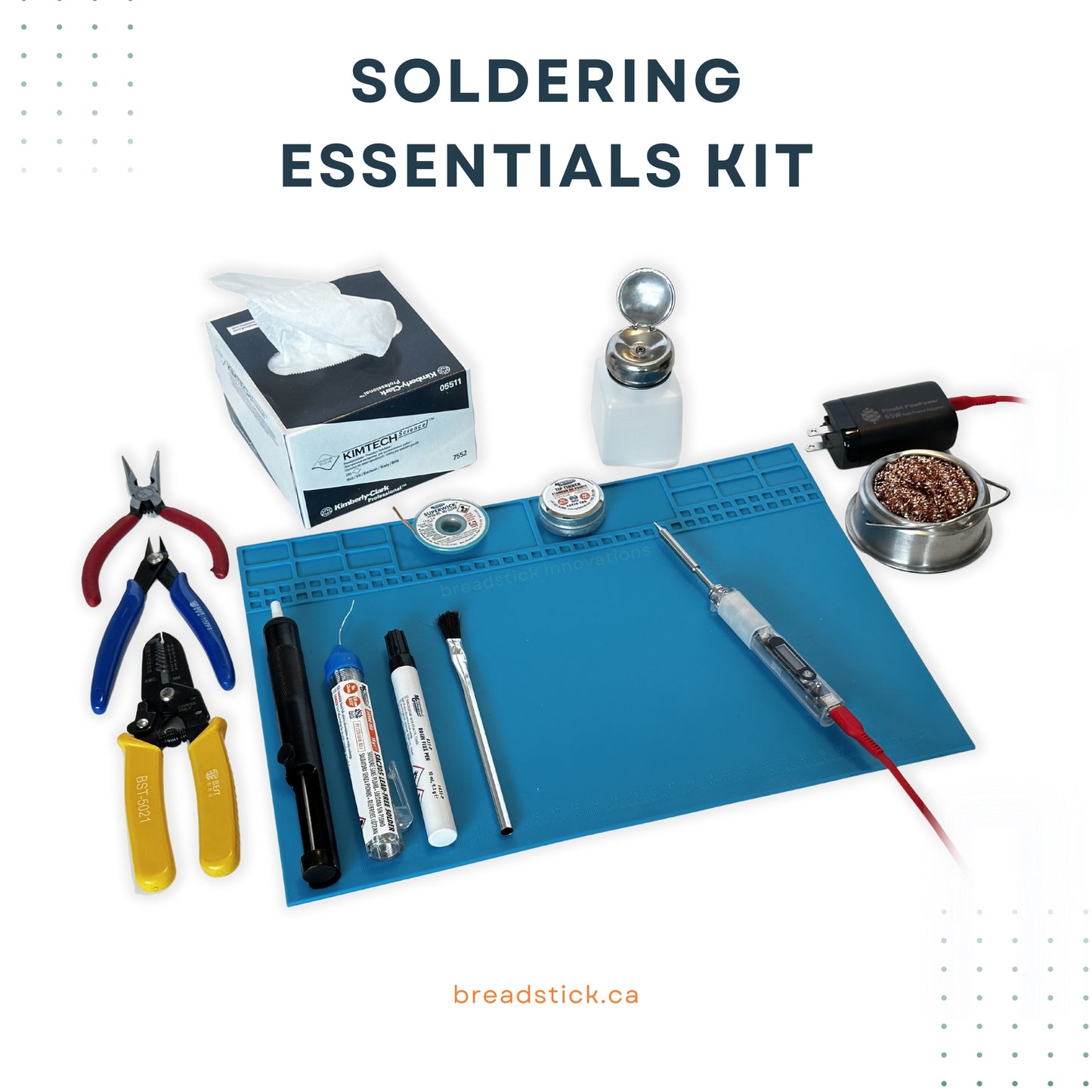 Great kit for getting started!
Solid kit with lots of useful parts! Everything you need to get started working on a project. Shipping was fast and the customer service responsive. Note the included Pinecil v2 has the standard black body, not the clear plastic body shown in the product page.